Dr. Rudolf Breuss Has Cured More Than 45,000 Cancer Patients by Using This Healthy Diet Therapy (Recipe Included!)
Rudolf Breuss is a naturopathic practitioner who has developed a 42-day juice-fasting program known as Total Therapy. He is the author of the book The Breuss Cancer Cure: Advice for the Prevention and Natural Treatment of Cancer, Leukemia and Other Seemingly Incurable Diseases. In his book, he claims that by using this healthy method more than 45,000 people have won the battle against cancer and other deadly diseases since 1980.
However, a senior nurse for Cancer Research UK stated that they did not support alternative therapies that were not backed by scientific evidence, and that following a restricted diet such as Breuss' could cause malnutrition.
The secret of his therapy
Dr. Breuss claims that his Total Therapy will not produce results, or the results will be significantly reduced, if the patient does not strictly follow his rules. The therapy will also be unsuccessful if the patient starts to combine it with methods used by standard (modern) medicine since standard treatments, besides destroying cancer cells, at the same time destroy many healthy cells.
His method of drinking juices should be strictly done with organic vegetables. Consuming vegetables intoxicated with artificial substances and pesticides creates a completely opposite effect – instead of healing and cleansing the body, we would be burdening it and contributing to the further development of diseases.
In the course of the fasting program, the patient must do bowel cleansing (the enema method) so that the entire body can be free of any toxic materials.
Besides everything mentioned above, patients must also get a lot of fresh air, exercise, and get massages.
It is of the utmost importance to understand that the healing process also requires that one has a positive attitude –one should avoid stressful situations and quit all the bad habits that lead to development of diseases, including cancer.
Get rid of poisons and chemicals
Breuss's therapy is not at all as easy and simple as one might think at first sight. His method of drinking vegetable juice and tea is only part of the complex healing approach, which is why he called it Total therapy.
And speaking of causes of cancer, Dr. Breuss emphasizes that the devastating effects of the poisons and chemicals that are everywhere around us and in our own homes. They are found in insecticide sprays, artificial air fresheners, chemical cleansing products, and so on. We must rid our homes of these things. Certain eating habits such as reheating foods, eating frozen foods, eating processed foods, consuming foods that have lots of preservatives, etc. also contribute to the development of cancer.
Fasting against cancer
According to Dr. Breuss, cancer is 'born' inside the body, and uses proteins from solid foods to grow. Hence, it can be destroyed by fasting and drinking fresh juices from organic vegetables. Due to the absence of dietary protein, the body will start taking protein from the malign tumor itself, which will ultimately lead to its final demise. For this reason, while the fasting process takes place, the patient must not consume any type of solid food that contains proteins.
Total therapy must last for 42 days in a row, or 6 consecutive weeks. During that period, the body will naturally eliminate all the unhealthy substances that we have taken in through our food, drinks, and even breathing.
In the second part of the fasting period, the apoptosis (death) of the cancerous cells will start, and after 6 weeks, the whole body will be completely purified and revived.
For the healing process to take place, Dr. Breuss uses root vegetables that are full of carbohydrates. The recommended therapy is to drink daily 3 – 5 glasses of juice made from beetroot, carrots, celery, potatoes, and radishes. Dr. Breuss' diet for cancer treatment is now being used around the world as an alternative healing method.
Total Therapy Juice Recipe
The ingredients listed below amount for: 50% beetroot, 20% carrot, 20% celery, 3% raw potato, and 2% black radish.
Ingredients:

10 ounces (300 grams) beetroot
3.5 ounces (100 grams) carrot
3.5 ounces (100 grams) celery
About one ounce (30 grams) black radish
The potato is compulsory only for treating liver cancer!
Preparation:

Mix all these vegetables in a juicer or blender and then filter it to get rid of any sediment.
Consuming any solids may provide a breeding ground for the cancer! Before starting the treatment,
try ¼ liter of juice per day with your normal meal. Drink the juice by the spoonful.
Don't swallow right away and mix it with a lot of saliva. The instructions are to take one half cup of cold kidney tea the first thing in the morning.
Then 30 to 60 minutes later, take 2 cups of warm herb tea made from St. John's Wort, Peppermint, and Lemon Balm. After another 30 to 60 minutes, add a little vegetable juice and again salivate well before swallowing.
After 30 minutes, take another sip of the vegetable juice. You should drink some juice 10-15 times throughout the morning, but only when you feel like it! In between, drink warm or cold sage tea WITHOUT ANY SUGAR, as much as you like. At noon, drink one half cup of kidney tea and do the same again before turning in at night. In the afternoon take a few sips of tea.
Any liquid should be sipped and mixed well with saliva. Kidney tea should be taken only during the first 3 weeks of the treatment. Along with this, and throughout the therapy, drink 1 cup of cold cranesbill (Geranium robertianum) tea per day. The cranesbill contains a little radium. Sipping small quantities of tea and juice stimulates the flow of saliva and reduces the workload on the intestines.
For bone and lung cancer, prepare a tea of plantain (Plantago major), Icelandic moss, lungwort, ground ivy, and mullein. It doesn't matter if you can't get them all at the same time. Steep the tea for 10 minutes and drink as much of this tea as you like – the more, the better. For cases of tuberculosis, you should also take 1 teaspoon of plantain seed along with a little water or tea.
Remember that cancers feed on solid foods only! So, if during those 42 days, one drinks only vegetable juice and tea, the tumor will die and the person can live on healthily!
Caution:
Even though a person can lose up to 35 pounds (16kg) of body weight during this process, most people feel fine loosing extra weight.
It is highly recommended, a few days before the start of the Total Therapy, along with "normal meals," that the patient drinks ¼ liter (about 9 ounces) of juice daily so that the body can easily adapt to it.
While going through this fasting process, sugar, white powder, dry meat, and canned products must be completely eliminated from the diet!
Besides curing cancer and other potentially-lethal diseases, Dr. Breuss's therapy can be used as prevention. It encourages the cleansing process and makes the immune system stronger. Since there are no unwanted side effects, it is also recommended for losing weight otherwise in healthy people.
SHARE IT WITH FRIENDS IN NEED
Rudolf Breuss (1899–1990)[1] was an Austrian who maintained that cancer lives on solid foods taken into the body, and that cancerous growths will die if a patient drinks only vegetable juices and tea for 42 days.
Breuss stated that more than 45,000 people were cured following his treatment. He wrote a book titled The Breuss Cancer Cure: Advice for the Prevention and Natural Treatment of Cancer, Leukemia and Other Seemingly Incurable Diseases; according to a 1995 English translation, Cancer Cure has been translated into seven languages and has sold in more than 1 million copies.
A senior nurse for Cancer Research UK stated that they did not support alternative therapies that were not backed by scientific evidence, and that following a restricted diet such as Breuss's could cause malnutrition.[2]
A 2012 review of cancer diets named the Breuss diet as one of the most frequently mentioned, but cautioned there is no evidence to support taking these "cancer diets" and that they can be harmful.[3]
Claim
Breuss Total Cancer Treatment cured 45000 cancer patients.
Verdict
There is no independent scientific evidence to back up this claim and there are concerns about the safety of the diet.
Origin
Interest in the Breuss diet began with the publication of The Breuss Cancer Cure book in 1995 (1, 2).  The Breuss cancer cure is a restrictive liquid diet of organic fruits, vegetables, herbs and specific teas taken for 42 consecutive days. Austrian-born Rudolf Breuss believed that cancers cannot survive on a liquid protein free diet.
No concurrent treatments are allowed during the 42 day diet. Additionally patients are encouraged to exercise, get fresh air and avoid ground radiation and insecticides.
Breuss claimed that 45,000 patients with cancer and other incurable diseases had been healed by the use of his methods. The only evidence for this lies in testimonials and letters of thanks written to Breuss between 1971 and 1985 (1,2).
There are two references to the Breuss diet in the medical literature. The first is a German language abstract which is not available online (3). The second is a review from a multi-disciplinary research team in Germany (4). The German researchers did a meta-analysis of cancer diets including the Breuss diet.
They did a systematic review of the clinical literature and concluded that there was no clinical data to support the Breuss diet. Furthermore, they expressed concerns about the possibility that a restrictive diet could result in malnutrition and weight loss. They were further concerned about the fact that patients on the Breuss diet were advised to avoid conventional medical therapy while doing the so-called 'Breuss cure'.
Earlier this year, CAM-Cancer.org reviewed the Breuss diet and referenced a small clinical study (5).  The study is not available on Pubmed. According to CAM-cancer the study looked at eight cancer patients with metastatic diseases (6). The study did not use a control group for comparison.
The authors reported two complete, and two partial remissions from cancer. One patient died during the study and two died shortly after completion of the Breuss. There is no information available on the eighth study participant.The authors did not attribute the deaths to the intervention.
A study by Dean Ornish and his colleagues evaluated a set of lifestyle interventions including a vegan diet in 93 patients with prostate cancer (6). Other health promoting activities recommended included moderate aerobic exercise and stress management techniques.
The vegan diet was not as restrictive as the Breuss protocol diet. Participants in the intervention arm  had a significant decline in the prostate specific antigen (a marker for prostate disease) as compared to the control group. The intervention group also did not need surgical intervention for up to two years after the control group. It is difficult to draw any firm conclusions about the specific benefits of a vegan diet because it is not possible to isolate out the effects of the vegan diets from the other health promoting interventions.
Despite the fact that there is no scientific proof that the Bruess diet works,  there is a commercial Bruess diet formulation available online, numerous spas offer Breuss cancer cure retreats and the Breuss Cancer Cure book has sold close to one million copies worldwide.
e Breuss diet
This regime was dreamed up by Rudolf Breuss, an Austrian naturopath born in 1899. He devised a strict 42-day diet of natural juices and herbal teas that is meant to nourish the body while starving the cancer. Before his death in 1991, at the age of 92, he claimed to have cured thousands of people of a wide range of cancers that had defied conventional treatment.
As part of his Breuss therapy, Barry Sheene, 51, who has refused conventional medical treatment for his throat and stomach cancer, is drinking a mixture of organic carrots, beetroot, celery, Chinese radish and potato. As with so many cancer cures that claim a miraculous success rate, there is no scientific evidence that this diet will help the former world champion motorcyclist, who now lives in Australia.
Oncologists would be unlikely to support Sheene's decision to follow the Breuss regime instead of conventional treatment. Sarah Turner, a senior nurse at Cancer Research UK, says: "We do not recommend alternative therapies because, on the whole, there isn't the scientific or medical evidence to prove the claims they make. However, some of these treatments can provide benefits alongside conventional treatments and NHS cancer centres are increasingly offering things such as aromatherapy and massage." Turner warns that prolonged adherence to a restricted diet such as Breuss's could lead to malnutrition.
Cost: The Breuss Cancer Cure by Rudolf Breuss is available from Amazon.co.uk at £163;6.45.
Sheene loses battle with cancer
Published: 04 March 2003
Updated: 19 November 2014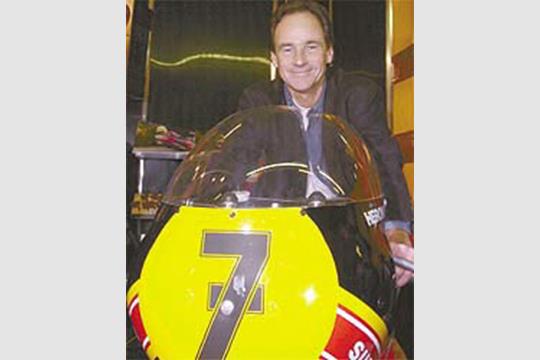 Barry Sheene died peacefully in hospital yesterday, March 10, after an eight-month battle against cancer of the oesophagus and upper stomach.
The 52-year-old 1976 and 1977 world 500 champion leaves wife Stephanie and teenage children Sidonie and Freddie.
We are dedicating our News Discussion board to your responses to this sad news. If you would like to add your tribute follow the link on the right.
Sources close to the British racing legend confirmed that his condition had deteriorated rapidly over the last two weeks. Close family members and friends had flown to Australia to be at his side once it became clear that his health was worsening.
When MCN last spoke to Sheene earlier this month, he confirmed that he was finding it increasingly difficult to eat and that he was feeling ill more frequently. And although he defiantly vowed to fight on and beat what he'd always called this "pain in the arse cancer", tragically for his hundreds of thousands of fans the disease was just too aggressive.
Sheene's battle with cancer began last summer when he started to find it difficult to swallow his food. He also had to drink a lot of water to help him digest his meals.
According to close friends he'd only visited doctors because he believed it was just a sore throat problem he'd been unable to shake off.
That was back in July, and he made his annual trip to race in the International Classic double header on a Manx Norton at Donington Park in what is a support race for the British GP.
Unbeknown to tens of thousands of fans, Sheene had visited England while awaiting test results to find out whether he was suffering from cancer.
On his return, he was told the terrible news that he was suffering from double cancer. But with his typical sense of humour Sheene only said he was more pissed off at the thought of missing the Goodwood Revival meeting.
He did return in September to the home shores that he quit 16 years ago, to take part in the event, pledging: "I'm not going to let f***ing cancer get in the way of me enjoying myself."
Almost immediately after his diagnosis, Sheene threw himself into a punishing series of natural remedies after he'd decided against any surgery.
He'd told MCN in early September: "I'm not going to be fighting this in the conventional way. I won't subject my body to chemotherapy. I have made a decision about not doing chemo and that's it. I'm putting my faith in the natural way. To me its poison, and I'm not going to poison my body."
The first course of alternative treatment he tried was a radical diet regime devised by Austrian natural healer Rudolf Breuss.
It involved Sheene fasting for the first three weeks as Breuss' theory was based on the fact that cancer feeds and grows on protein. For those three week, Sheene could eat vegetable juice that included organically grown carrots and Chinese radish. During that period he lost 5kg in weight before going on a low-alkaline diet.
His next public appearance came in October when Sheene was persuaded to visit the Australian GP at Phillip Island.
He'd flown there with son Freddie, and despite looking somewhat gaunt he was mobbed by well-wishers – including world champ Valentino Rossi.
It was at that time that Sheene first confirmed he had turned to God to help him fight the disease.
"I think if there is any way I can get over this, it's because of God. I've never gone around waving bibles at people, but I believe. I've had some really bad accidents in my career and I got over them. I don't consider it just luck that I didn't get killed."
He also revealed at the race that he'd undergone further treatments in Mexico and Kuala Lumpur.
In late November, Sheene vowed again to leave no stone unturned in his fight and revealed he was in the middle of another course of treatment called radio wave therapy.
He was attending a specialist centre in Perth run by British doctor and cancer expert Dr John Holt.
The course, which lasted for three weeks, involved Sheene being intravenously injected once a day between Monday and Friday with a glucose-blocking agent. He had a line inserted in his chest for the duration to make the course of injections more bearable.
The next stage then involved focusing Ultra High Frequency radio waves on his body. Unlike conventional radiotherapy, which uses different frequency of radiation. UHF waves can't be directed in a concentrated beam and Sheene described the experience as like "being in a mircowave."
Sheene had gone for the radiowave treatment because glucose is the only energy source that cancer has for its cells to divide and multiply. The UHF waves heat these cells, making some or all temporarily inactive so they can be starved of energy by the glucose blocking agents.
Sheene admitted at the time that the sessions left him feeling tired and lethargic, and a substance included in the glucose-blocking agent made him feel sick for about an hour after the daily injections.
In the initial stages of the treatment Sheene was given reasons to be optimistic. He'd come through a trial period before waiting a month to find out if it was beneficial to carry on. Doctors gave him the good news that further treatment would be worthwhile, and once completed he would have to undergo a further six weeks of waiting to find out if his body was responding.
Although it was claimed that fewer than 10 per cent of people fail to respond to UHF therapy, sadly Sheene fell into the minority. In late January he was told that the therapy had had little affect and it wasn't worth continuing with further courses.
Although many considered it a massive setback for Sheene, he didn't see it that way and told MCN in another exclusive interview that he had "not given up hope" and he wasn't on his "last legs yet."
Earlier this month Sheene said: "I have to admit that I'm not feeling particularly great at the moment. I just permanently feel sick. I've been feeling like this pretty much since the middle of November, and I can tell you that feeling sick 24 hours a day is not pleasant."
He added: "I don't see the radiowave therapy as not being a success because it was something I had to try. I'm not looking at this as a major setback."
Just days after that last interview with MCN, Sheene's condition began to worsen, and friends said that he was still unable to eat and was spending more of his time in bed asleep.
He had planned to investigate further alternative treatments in his bid to beat the disease, but sadly time in the greatest race of his life was not on his side.
We're dedicating the News message boards to your tributes to Barry Sheene.
https://www.motorcyclenews.com/news/2003/march/sheene-loses-battle-with-cancer/
40 non filtered cigarettes he…
HOW I BECAME CANCER-FREE USING THE BREUSS JUICE TREATMENT
In 2005 I was diagnosed with "CML" a chronic form of leukemia. I was 43 and back at school interning as a Geriatric Care Manager. My health coverage was my husband's which was a moderate amount provide by the FDNY. I had traditional diagnostic testing & treatments: bone marrow taps from my hip, chemo, prednisone & narcotic pain medication. I also had traditional side effects of nausea, vomiting, needle pain & fatigue. While still a new patient, my oncologists stopped accepting my health insurance saying it, "wasn't paying enough" to cover their costs. It was difficult finding an MD that accepted a patient with a pre-existing condition in 2005. We paid for the cancer care out-of-pocket and by 2006 I was in remission.
In 2008 the leukemia came back. This time it was a more acute form and a colleague offered an alternative treatment of rejuvenation of the blood. The treatment was similar to dialysis therapy and like my coverage before it was not covered by insurance. By this time I had researched the world over for safer treatments. I paid to join medical websites for information in treating cancer. I wanted to avoid the harsh side effects while working toward being healthier. Chemo left me with permanent side effects of anemia, headaches, shortness of breath, bleeding gums, missing teeth. I had neuropathy in my wrists & hip pain from needles. Nearly bankrupt, we mortgaged our home & borrowed money from family/friends. I had an IV port in my neck that, to this day, I can feel where it was. The "rejuvenation" therapy cleansed my blood. It was a long process with good results as we watched my numbers dwindle. This treatment was wonderful and kept me in remission…until it didn't.
"To my mind, healing means returning a malfunctioning human body to full unrestricted function, not to remove parts of it by operation or amputation"Dr. Rudolph Breuss
July 2013, the leukemia resurfaced. Broke & desperate not to use chemo I decided to try the Breuss Juice, developed by Austrian Doctor, Rudolph Breuss. Dr. Breuss researched ways to treat the cancer without hurting a body already weakened read about the 900,000 others who have used the juicing therapy with great results. I bought the book " The Breuss Juice Cancer Cure" book on Amazon for $12 or less. *Link below* In short, the recipe of organic juiced vegetables starved the cancer cells of the protein needed to survive. It's what chemo is designed to do. The difference is the organic juice will hydrate the healthy cells, not harm them. The juice will prevent the side effects of chemo, radiation & surgery. Breuss juice vegetable juice that consists of 55% red beet root, 20% carrots, 20% celery root, 3% raw potato, 2% radishes … The potato is optional except for liver cancer where it plays an important part. As luck would have it, I was already growing these foods in my organic garden & since it was summer they were ready to harvest at the peak of their nutrition.
The strict "juice-only" lasts for 42 days. I was allowed certain teas or broth as a supplement for when really hungry. It sounds horrible but is not nearly as drastic while actually doing it. Some days I was tired and sleeping help pass the time. Other days I had boosts of energy. When really hungry I would sip sage tea which doesn't interfere with the chemical breakdown of the Breuss Juice. It is a natural appetite suppressant. The mind and thoughts of food is the greatest battle for this juicing therapy. The biggest food I missed: coffee! I waited one week post juicing before having my blood tested.
I've been Cancer-Free since October 26, 2013.
DISCLAIMER: The Breuss Juice is what I used to treat cancer. This is my experience. The juice is not an approved or accepted as treatment for cancer or illness in the U.S. It is legal to choose an alternative treatment in the US, but know that health insurance companies will not pay for it. If you want to use this course of treatment for cancer you can educate yourself by obtaining The Breuss Juice Cancer Cure Book and follow the instructions for yourself. I will not accept any responsibility for outcomes. There are no "guarantees".
To obtain the book on Amazon:
http://www.amazon.com/The-Breuss-Cancer-Cure-Rudolf/dp/0920470564
I knew this before trying the juice therapy and you need to know this, too.
CONCLUSION: U.S. MD's aren't taught much about nutrition. Johns Hopkins School of Medicine offers the most amount of nutritional course study of just 17hrs. Cancer Orgs aren't researching organic juicing for treatment of cancers. (I've called, emailed, tweeted, posted comments to them and most haven't replied. When they did, their answer was the same "We have no plans to research organic juicing for treatment of cancer". BigPharma won't fund safer studies. Take your health into your own hands.